Which Is The Right Equestrian Surface For You ?
06/05/2020
Here at Equine surfacing ltd we are often asked to advise clients on which Manège surface would best meet there particular requirements.
Below we have complied a brief list of possible aspects to take into consideration when choosing the correct Equestrian surface.
(more…)
Pre-mixed Surfaces Available From Just £55 Per Tonne
28/01/2020
Equine Surfacing offer a range of ready to use Pre-mixed surfaces, available from only £55 per tonne
Including free delivery and installation!!!
Choose from
(more…)
SPECIAL OFFER – FREE NATIONWIDE DELIVERY
24/01/2020
Limited Time Offer – FREE NATIONWIDE DELIVERY
Poly-Pro fibre Equine Surface additive
Now only £85.00 per 350kg bale
This is our Premium fully synthetic fibre additive
Our fibre is blended in house using polypropylene fibres as
the base material, polyester hair fibre and a pvc granulate is
introduced to the blend, giving you an incredibly high
performing fibre that will match the performance of any on
the market.
Perfect for a New year surface freshen up
Free Nationwide delivery Uk Mainland only
Free Delivery available On orders of 10 bales and above
Sparsholt College Arena Refurbishment Project
15/01/2020
This week the team have been refurbishing the warm up Arena at Sparsholt College, Hampshire.
We were tasked with refurbishing this Arena as the surface simply wasn't draining,
It was a wash out after heavy rain and even after days of dry weather would still not have cleared.
(more…)
Equestrian Surface Renovation
17/10/2019
Here at Equine surfacing Ltd we are specialists in all apects of Equestrian surface renovation.
Over many year perfecting the craft we are proud to be able to offer an in budget solution to your Equestrian surface issue.
(more…)
Equestrian Surface Maintenance
25/09/2019
This week we will be covering the various aspects of equine surface maintenance and what equipment is required depending on what surface is currently installed in your Horse Arena.
When considering any maintenance programme for your equine surface you need to take into consideration which surface you have, amount of use as well as ambient weather conditions.
(more…)
WIN 140 tonnes of our All-Track Pre-Mixed Surface
03/09/2019
You can win 140 tonnes of our All-Track Pre-Mixed Surface. Enough for a 20m x 40m full surface….. worth over £7500 !!!
To celebrate the launch of our brand new range of Pre-mixed surfaces we are running this fantastic competition
Running in tandem with this amazing prize we are offering a 10% discount off any surface purchased by October 31st 2019
For the full range of Pre-mixed surfaces we offer, take a look at our Surfaces page.
To be entered into this amazing surface give away simply like our Facebook page here.
The winner will be announced at 9am on November 1st 2019.
Delivery is NOT included, though the surface can be collected free of charge.
Alternatively Please call 03334561650 for a delivery quotation.
Surface riding deep during the hot weather?
12/08/2019
Equine surfacing have your surface issues covered
Are you struggling with a deep surface during this hot weather?
Here at Equine Surfacing ltd we have various cost affective solutions to counter your surface stability woes covering Gloucestershire and surrounding areas.
We have worked hard to build up a reputation over the past few years for being the go to experts in the field of Equestrian surface refurbishment.
There are many reasons that your surface maybe riding deep especially during hot weather conditions though this is mainly due to diminished moisture content.
(more…)
Equestrian surface in Oxfordshire, lifted re-waxed and re-laid.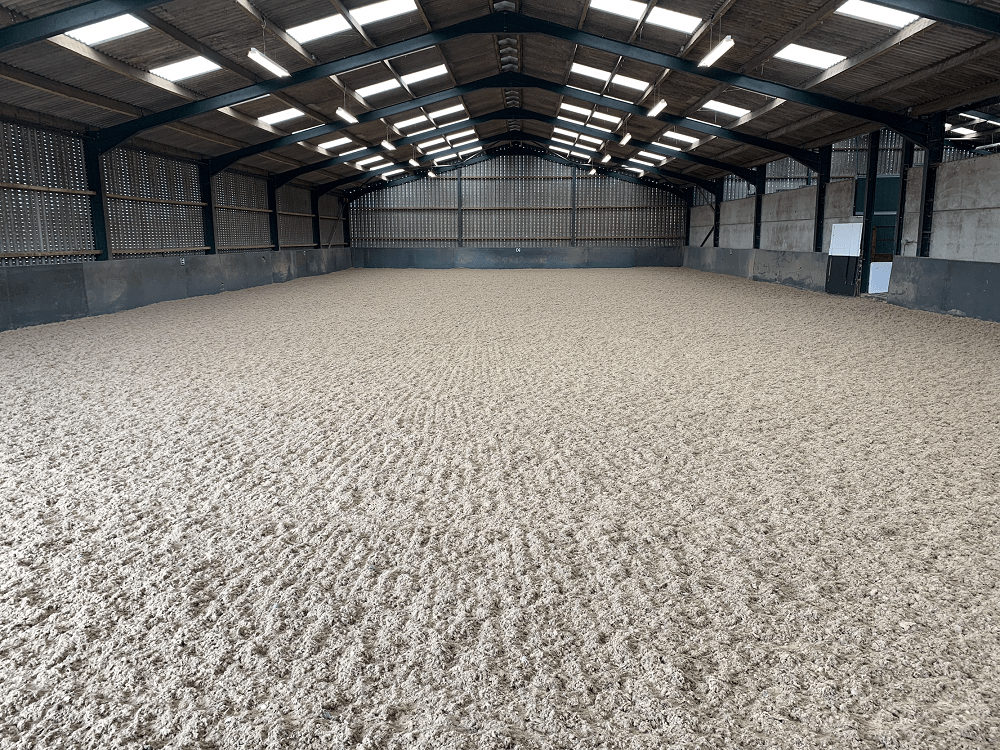 01/08/2019
Our Onsite surface pre-mixing is an incredibly popular process which transforms the performance of your existing surface without the need for replacement.

Call the team today with your requirements.
This service is offered throughout the uk and Ireland.
Equine surface Fibre additives, which one to choose?
19/07/2019
Here at Equine surfacing headquarters this week we have been looking at the various Equestrian surface fibre additives on the market and running comparison tests along side our own Poly Pro fibre.
We have drawn up a series of things you may want to consider when purchasing your fibre additive and more widely your pre-mixed Equine Surface of which the fibre additive will make up a large percentage.
There are many factors to consider when looking for the correct fibre additives for your Manège surface.
Some considerations when deciding may be:
(more…)